In this article we will show you 5 best ways to find lost Windows password, tested on Windows 10, Windows 8, Windows 7, Windows Vista and XP.
Usually the Windows log-on password is one of the most important passwords in your IT life and if you've lost this password, the situation will become problematic. Pick from one of several ways to find your lost password in Windows.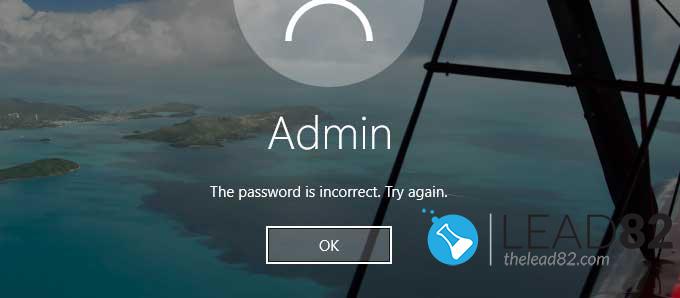 1: ASK ADMINISTRATOR TO CHANGE YOUR PASSWORD
Probably the easiest way to find a forgotten Windows password is to skip the idea of finding it at all! So basically ask one of the other users on your computer to change your lost password for you.
Obviously this will only work if you share your computer with other people and this other guy has a Windows log-on account with administrator access (administrator privileges). Usually at least one account usually has administrator access, so this method should be worth a shot.
Unfortunately this idea will not work if you are the only user on this computer.
2: USE PASSWORD RESET DISK AND DEAL WITH LOST WINDOWS PASSWORD
If you use local account on Windows 8 / Windows 10 or you use older Windows system like Windows 7 etc. the easiest solution to get out of a "lost Windows password" situation is to use your password reset disk. Obviously this reset disk needs to be created before you lose your Windows password, not after.
It is worth noting you only have to create a password reset disk once. It doesn't matter how many times you change your password after creating the disk, it will still work to reset your lost password.
If you want to learn how to create a Windows password reset disk click here.
3: RESET YOUR MICROSOFT ACCOUNT PASSWORD
You can use this way to get back into Windows system after losing your password. This method will reset it for you using official Microsoft online service. However this will only work if you have Windows 10 or Windows 8 and only if you use a Microsoft account to log in. If you situation is different check the next method.
In case you use your Microsoft account as your Windows 10 / Windows 8 credentials, and since Microsoft manages those accounts online, you can reset your lost Windows 10 or Windows 8 password directly from your favorite browser and device.
To reset your Microsoft account simply follow the guide on Microsoft website.
If you are not sure if you log in to Windows with a Microsoft account simply check if you log in with an email address. If this is true than you are using Microsoft account. On the other hand if you log in with something other than an email address, like your name or some other handle, then you're using a local account . This method is not designed to work with local accounts.
4: KON-BOOT TO BYPASS LOST WINDOWS PASSWORD
If you have problems with using the previous method to fix the lost Windows password problem and you value your time simply use KON-BOOT utility to bypass Windows password. This tool will simply bypass your lost Windows password without caring about the password at all. Entire procedure is done in seconds and you can log in to your Windows without knowing the previous password. Check the video below to see how KON-BOOT bypasses lost Windows password in seconds. This tool supports almost every Windows system out there including Windows 10, 8, 7, Vista, XP, Server.
5: CLEAN INSTALL WINDOWS
This is the option you usually want to try only if everything fails. We have decided to include it here because it is surely a fix for the Windows lost password problem. However there are major drawbacks in this method.
Complete clean install of the Windows system is basically "wiping" of your hard drive, followed by a re-installation of the Windows. To use this method simply boot your locked computer with Windows installation disk (USB / CD). Then follow the typical Windows installation steps. After the system is installed again you can access your computer with a newly set password. However your private files will not be there. Use this method with caution.